Asian Athletes In The News: Paul Kariya and Richard Park
Hockey season is about to start. It's taken a really chilly turn here in the DC area, we barely got up to 52° yesterday. But it has that kind of hockey weather feel, though, in the area. During this summer, NHL player Paul Kariya retired after 15 seasons as a left winger. He missed the entire season last year due to concussion problems. And unfortunately for hockey fans, Kariya's career came to an end because of those problems. He wisely chose to retire from the game rather than try to continue on and risk further brain damage. ESPN.com had some harrowing details by columnist Pat Burnside about his brain injury that I don't think most hockey fans were aware of. Burnside writes:
"Highly skilled and a stickler for details big and small when it came to preparation, Kariya became a cautionary tale even before the NHL had turned its attention to keeping its best players safe. Kariya suffered his first concussion in 1996 and another in 1998.
Mark Lovell, one of the continent's top concussion doctors and a man familiar with NHL players, told Kariya last season that the forward suffered brain damage and wasn't able to play.
"He said to me, 'No one in my profession would clear you to play this season,' " Kariya recalled.
Lovell also told Kariya that if it had been up to him, he would have suggested Kariya retire right then and there.
"I was shocked," Kariya said.
Even this past spring -- when Kariya was feeling better and teams were calling to see whether he might be available for a late-season run or perhaps for the 2011-12 season -- Lovell told Kariya he was in no position to play.
Kariya began working with Dr. Daniel Amen, one of the NFL's leading post-concussion experts. After five months of hyperbaric chambers and other workout regimens, Kariya jumped from the 20th to the 80th percentile in brain function….
Kariya, a left wing, was the fourth overall pick of the Anaheim Ducks in 1993 after a phenomenal college career that saw him win the Hobey Baker Award as a freshman at the University of Maine (the award is annually given out to the top NCAA men's hockey player).
He and Teemu Selanne, acquired from Winnipeg in February 1996, became one of the most dynamic duos in the NHL, helping to establish the Ducks as a player in the California sports scene.
He had 989 career points (402 goals, 587 assists) in 989 regular-season games and was a two-time winner of the Lady Byng Trophy. He also represented Team Canada at the 1994 and 2002 Olympics, winning a gold medal in 2002."
It's unfortunate that his career came to an end too early, but his health and well being far outweighs any return as a player. What a role model for any Asian Canadian or Asian American kids wanting to pursue hockey. All the best to Paul---I would've loved to have seen him on the Washington Capitals.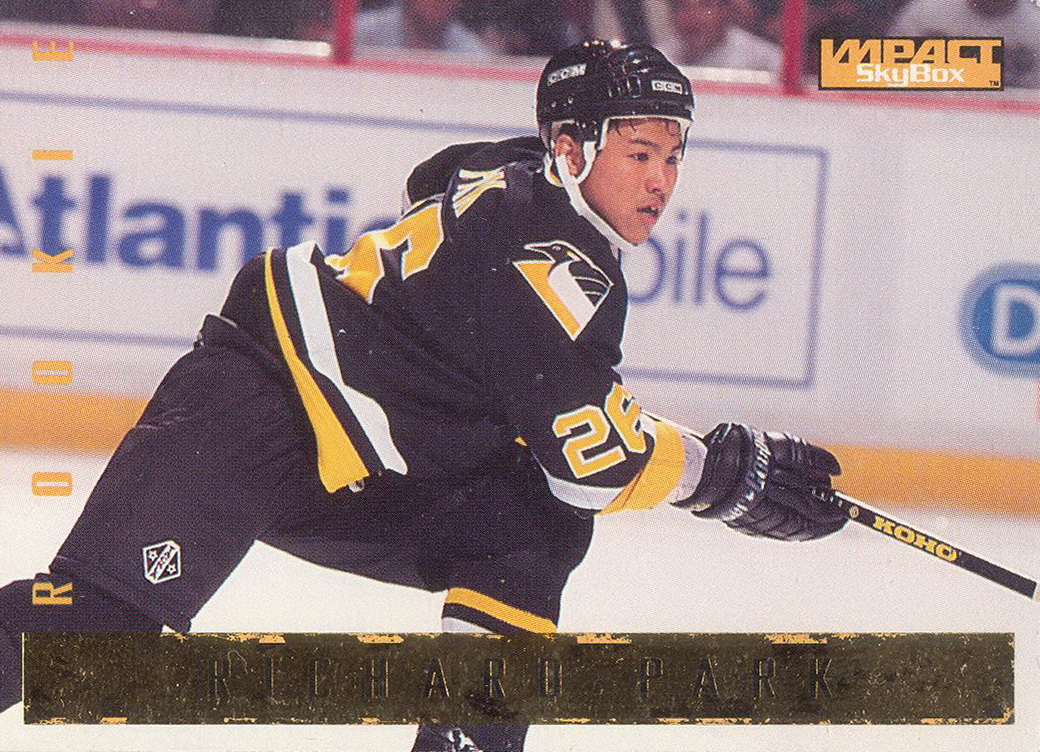 And Richard Park is back from playing in the elite Switzerland hockey leage, signing a one year contract with the Pittsburgh Penguins in September, a team that he was originally drafted by. Unfortunately, he plays for the rival of my Washington Capitals team. It's good to see Park back in the NHL. According to the Pittsburgh Tribune:
"Coach Dan Bylsma has liked what he's seen from Richard Park during training camp so far. 'I think the intelligence and work ethic he plays the game with is extremely high,' Bylsma said. 'You see that in different situations. Faceoffs, penalty kills, moving in different spots and all of that. Left wing, right wing, center, he's a guy that can do that.' He is competing for a spot on the opening day roster".
I hope to see him do well, but not against my Caps team!